Support Us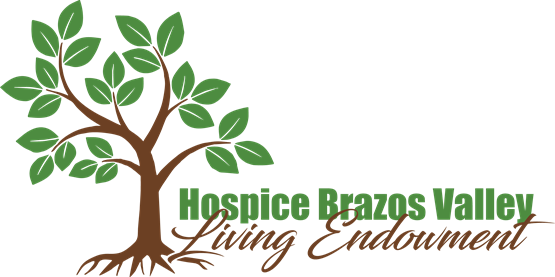 Create a Lasting Legacy:
Our Living Endowment honors individuals and families who have made a lasting impact on the work of Hospice Brazos Valley, either with a planned gift in their estate or a magnanimous gift in excess of $5,000.
By directing your gift to the Living Endowment, you will become part of a legacy that continues to serve families with compassion and dignity for years to come. We hope you will consider partnering with us to care for future generations in our community. 
Your commitment to grow the Hospice Brazos Valley Living Endowment by becoming a part of the Legacy Society helps to insure perpetual financial support for Hospice Brazos Valley's continued mission of service.

How to join the Legacy Society:
- Inform us of your existing estate plans that include the Living Endowment
- Give a planned gift of any amount to the Living Endowment
- Give $5,000 or more to the Living Endowment
Membership Benefits:
- Invitation to annual appreciation events
- Recognition on our online Legacy Society page
***Membership is voluntary and without obligation

Ways to Give:
Planned Giving
You can make a very meaningful and significant impact during and after your lifetime by making future provisions for Hospice Brazos Valley through your will or living trust, designation as beneficiary of a retirement plan or life insurance policy, or by making a life income gift (such as a charitable gift annuity or charitable remainder trust).
Download the Living Endowment Brochure to learn more about your planned giving options, CLICK HERE 

Make an Impact During Your Lifetime:
Donations of any amount to the Living Endowment will support our mission for years to come. Please consider joining the Legacy Society by giving at one of the following levels (pledges of $5,000+ may be paid over 5 years):
• Gifts of Peace - $1M or more
• Gifts of Love - $500,000 - $999,999
• Gifts of Reconciliation - $250, 000 - $499,999
• Gifts of Courage - $100,000 - $249,999
• Gifts of Truth - $50,000 - $99,999
• Gift of Compassion - $25,000 - $49,999
• Gifts of Dignity - $10,000 - $24,999
• Gifts of Comfort - $5,000 - $9,999
 
To learn more about the role you can play in securing the future for Hospice Brazos Valley, please email giving@hospicebrazosvalley.org contact Craig Borchardt or Lisa McNair at (979) 821-2266.
Hospice Brazos Valley Living Endowment Board of Directors
Dan Beto, Volunteer
Craig Borchardt, President
Vickie Buenger , Chairman
Brad Corrier
Dave Fox, Vice-Chairman
Mary Jo Hurley
Lisa McNair, Secretary/Treasurer
Wade Seidel
Roland Searcy 
David Sommer
Ray Weiss
Tom Taylor