Get Involved
28th Annual Holiday Wreath & Swag Sale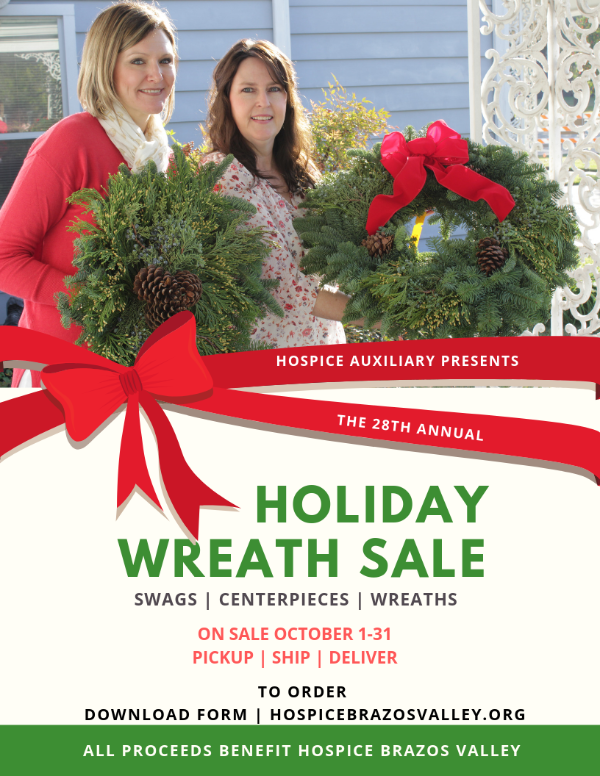 Hospice Auxiliary 28th Annual Holiday Wreath and Swag Sale is happening October 1-31.  All items are handcrafted from fresh, fragrant evergreens in Oregon.  Wreaths, Door Swags, and Bark Baskets make beautiful gifts for family, friends, office, or colleagues. 
Wreaths: 22-inch Noble Fir, Cedar, and Oregon Juniper mixed evergreen wreath.  Wreaths are decorated with a red velvet bow and Ponderosa pine cones. Wreaths can be shipped, delivered, or picked up in Bryan or College Station.  Cost: $35/ea for pickup or delivery orders, $45/ea shipped
Door Swags: 24-inch Noble and Cedar evergreen accented with Ponderosa pine cones and red raffia bow. For delivery only.   Cost: $35/ea
Bark Basket Centerpieces: Measuring 10" x 15"  these hand-held Bark Basket Centerpieces are made with Noble Fir, Green Holly, Oregon Juniper, Princess Pine, Ponderosa Cones, faux berries, and a plaid bow. For shipping only. Cost: $45/ea.
---
Auxiliary volunteers deliver wreaths and swags for free within Bryan/College Station city limits.
Pickup locations: Hospice Brazos Valley Bryan Office: 502 W. 26th St., Bryan OR 701 Coral Ridge West, College Station
Orders for wreaths and swag estimated to arrive on or before first week in December.
Send mail order form and make checks payable to: Hospice Auxiliary Brazos Valley, P.O. Box 9756, College Station, Texas 77842
Orders received after October 31st subject to $5.00 late fee per item.
For more information: Contact Bulinda Ebanks at (979)703-1623 or email bulinda1@gmail.com 
---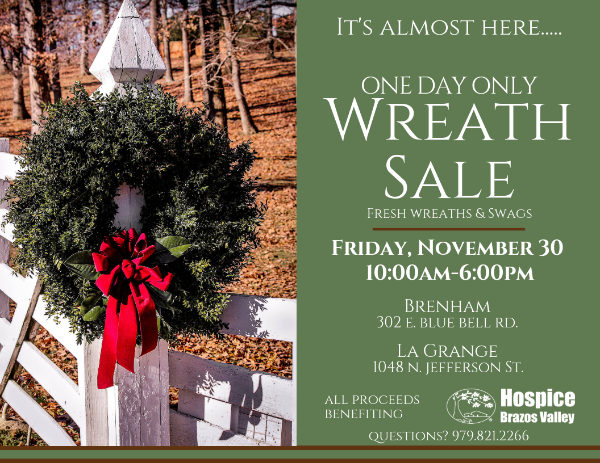 One Day Wreath Sale
The Hospice Brazos Valley Brenham and La Grange office locations will host an annual one day wreath sale on Friday, November 30th from 10am-6pm.  
If you are interested in purchasing a wreath at this one day sale, do not download order the above order form or submit a pre-payment. Simply arrive on the designated day at either our Brenham or La Grange office location to purchase and pick up a fresh wreath and/or swag.  Limited quantities available. First come, first serve.  
Questions about One Day Wreath Sale? Email Jessica Andrade at jandrade@hospicebrazosvalley.org
---