About Us
Hospice Brazos Valley has achieved Elite status in the Hospice Honors program
President and CEO Craig Borchardt, Ph.D. on 01/25/2018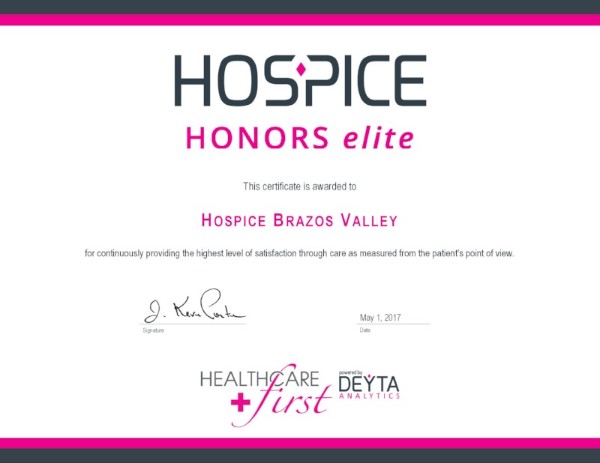 Hospice Honors is a landmark comparison of hospices throughout the country providing the best patient and caregiver experience. Established by Deyta Analytics, a division of HEALTHCAREfirst, this prestigious annual review recognizes hospices that continuously provide the highest level of quality as measured from the caregiver's point of view. Hospice Honors acknowledges high performing organizations by analyzing performance of Hospice CAHPS quality measures.  
Hospice Honors recipients include those hospices scoring above the Deyta National Performance measures on twenty of the twenty-four evaluated questions. The Hospice Honors Elite recognition was given to those hospices scoring above the Deyta National Performance Score on one hundred percent, or all twenty-four, of the evaluated questions.
It's quite an honor to achieve Elite status.  Of the twenty hospices in the Texas Non-Profit Hospice Alliance, ten made the Honors list; only five achieved Elite status.  Hospice Brazos Valley is the only hospice provider to achieve Elite status in our service area.  We continue to remain constantly vigilant to insure that every day we live up to the standards we've set for ourselves all the while maintaining our commitment to put patients first and provide the best hospice care in the country right here in Central Texas.