About Us
Awards & Recognitions
---
Hospice and Palliative certification
Hospice Brazos Valley's dedication to providing the best care possible is exemplified by the number of staff members who have achieved Certification in Hospice and Palliative Care. We are honored to recognize the following employees who have achieved certification and are dedicated to the highest standards of professionalism and patient care:
Jordan Acuna, RN, BSN, CHPN                                 Dinah Anderson, RN, MSN, CHPN
Thomas Borgstedte, D.O.                                           Robert Pope, M.D.
Kacy Kuespert, RN, BSN, CHPLN                             Emilie Kmiec, RN, BSN, CHPN
Laurie Duke, RN, BSN, CHPN                                               
Misty White, RN, BSN, CHPN                                 
Jenny Schoen, LVN, CHPLN                                                                    
Janet Whitworth, RN, BSN, CHPN           
David McClellan, M.D.                                               
                                                                                
---
The W.F. (Boy) and Johnnie Hasskarl Humanism in Nursing Award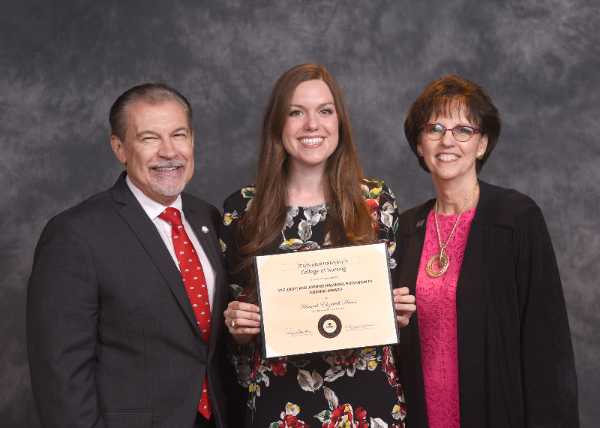 This award is provided by the Hospice Brazos Valley Living Endowment Board of Directors and is named to honor Dr. Hasskarl and his wife Johnnie, who lived in and served the Brenham community for over 90 years; 50 of those years spent practicing medicine. Dr. Hasskarl was also the first medical director for Hospice Brazos Valley's patient care efforts in Washington and surrounding counties.
Each year the award honors a nursing student of the Texas A&M Health Science Center College of Nursing who embodies the values of hospice and palliative medicine and is presented at their commencement.

Hannah Himes - 2018
Catherine Buskmiller - 2017
Daniella Leonard - 2016
Jessica Stauber - 2015
Rosalie Wright - 2014
Jasmine Cochran - 2013
Ashley Renee Sims - 2012
Emily Anne Liebovich - 2011
Janeen Wright - 2010
---
Hospice Brazos Valley Living Endowment Nurses Scholarship Fund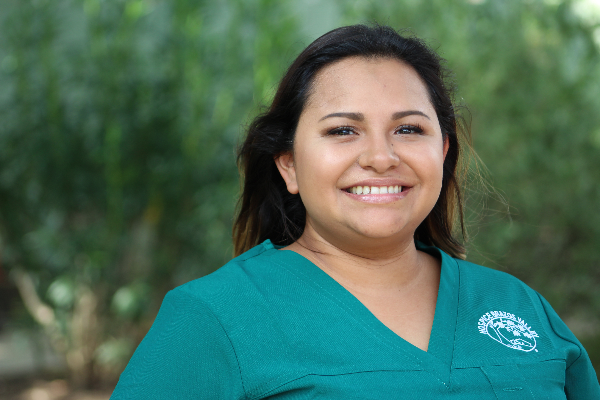 This award was established to promote the nursing profession and to further support expanding health care needs in Texas. The annual award is presented to a student enrolled in the Blinn College Associate Degree Nursing Program. The recipient must be a resident of Texas, be enrolled in the ADN program and have completed at least one semester of academic work and be in good academic standing. The award provides the student with $1500 which goes toward their nursing degree. 
Linda Hernandez - 2018
Holli Reeves - 2017                   Andrea Richardson - 2016
Abril Davila - 2015                     Courtney Lee - 2014
Jasmine Morrison - 2013          Tanya Elizabeth Schneider - 2012
Melissa Ashley Tivers - 2011    Andrea Lynn Hendon - 2010
---
Diane Duncum Award for Excellence in Hospice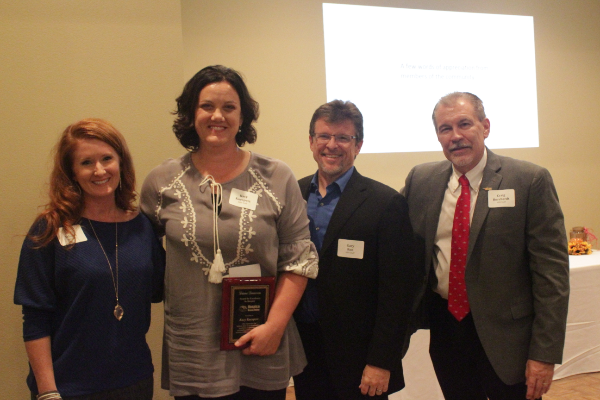 In 2009, John Duncum & Family established "The Diane Duncum Award for Excellence in Hospice" as a lasting tribute to honor their loved one, Diane Duncum. The annual award recognizes a Hospice Brazos Valley employee, either administrative or clinical staff, who is passionately committed to our mission.
An award plaque along with $2000 is presented each year to the HBV employee who best exemplifies the highest ideals of professionalism and excellence in practice. The winner is chosen from the nominations we receive from members of our community touched by our staff.

Kacy Kuespert - 2018
Hanna Strain - 2017
Gary Roe - 2016
Jenny Schoen - 2015
Kellie Jakobeit - 2014
Debbie Mackey - 2013
Sam Rocio - 2012
Brenda Meissner - 2011
Amy Way - 2010
Emily Rhodes - 2009